Request a Free Consultation
Request a Free Consultation
Understanding Google Ranking Factors
Here are the various Google ranking factors to keep in mind.
External Link Anchor Text
Strength of External Links
On-Page SEO/Keyword Usage
Utilizing Web Crawlers to Improve SERP Position
Request a Free Consultation
Paid Vs. Organic Results Online
Staying Ahead of Search Engine Algorithms
Want to Improve Your Search Presence?
Request a Free Consultation
For some people, the internet can be a tricky tool to navigate, and most are often confused by how search engine results pages are structured.
This concept has become more complex as Google proceeds to release updated features and load up as much online real estate as possible.
This article provides a brief outline of what to watch out for in search engine results pages when searching via Google. We will also dive into how all the different elements work together in synergy.
When you search something on Google, you are prompted by three fundamental parts of the search results. You will see the results on the right side of the screen as well as another section of results at the top of the page.
These results commonly have much shorter meta-descriptions when compared to the other results found on the page (SERP). These listings or results are paid search results (PPC). These are results produced by advertisers competing in the Google Ads.
Essentially, these website owners pay Google to show their website whenever a specific phrase or word is typed in by you.
Business professionals who want their website to appear within these sections of the search engine results page have to pay for every click that they receive. The cost-per-click varies depending on how competitive a distinct keyword is.
So, if it is a popular industry with a lot of online search volume, you would be paying for (in theory) for these clicks.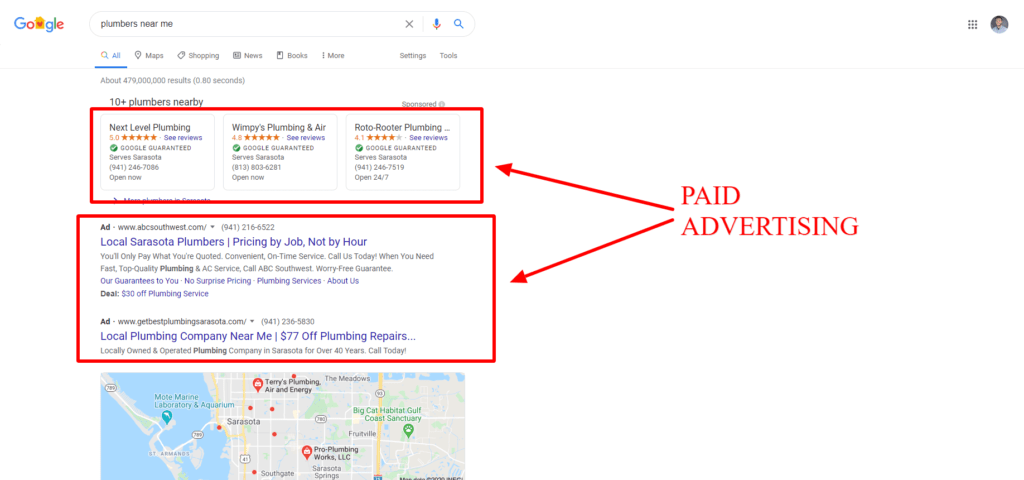 What is a Search Engine Results Page?
What is a Search Engine Results Page?
Search engine results pages (otherwise referred to as SERP) are the pages prompted to you after searching something on Google.
Every time an article or a blog post is distributed online, that webmaster arranges for Google bots or spiders to index the website. This can be quickly accomplished by utilizing Google's Search Console (GSC).
This authorizes Google to review the web page and place it in the search engine result pages.
Depending on the popularity of the website and other key metrics such as bounce rate, Google will shift the rankings around for the first several weeks until it finds a good location with each SERP.
Request a Free Consultation
Now being able to land a position on the first page of Google can be more tricky. As we briefly mentioned above there are several metrics involved with how Google positions which URLs where on SERPs.
Here is a shortlist of metrics Google uses to score a webpage:
Security of the domain
Mobile-friendliness
Includes excellent Schema markup
Contains Quality & Original Content
Optimal Page Load Speed
Social Signals
Link Sharing (Quality of Backlinks)
These internal factors depend on how strong a web page has been optimized. Although there is much you can do to optimize your website, competition still plays a big factor.
What do we mean by this? It would be simpler to advertise at a lower cost in an industry that is small or niche. So unless your content is extremely engaging coupled with thousands of social shares you would have a difficult time ranking quickly.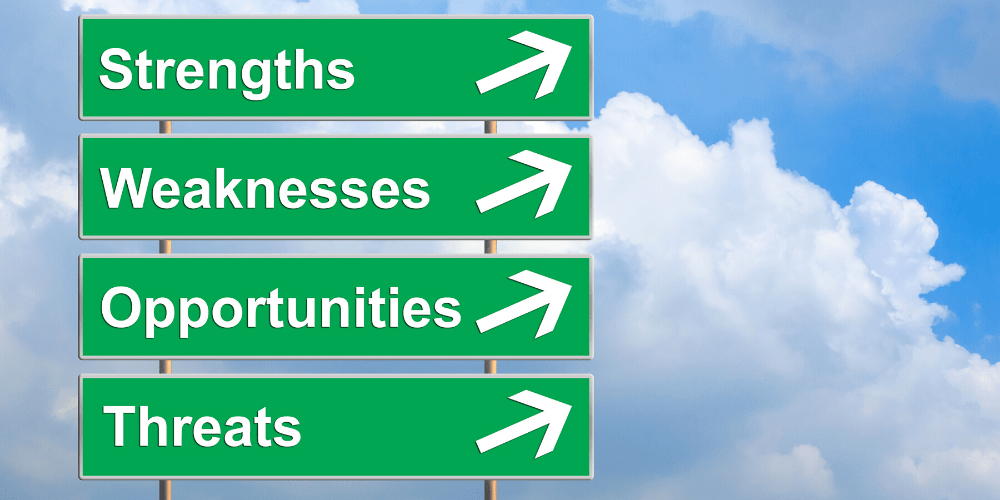 A standard search engine results page is made up of 10 general results. Each search result includes the title, website URL, and a short description of what the page is about.
The search result link is the title of the page and is truncated to ~65 letters. There is no rule that restricts the length of the headline of a particular website. Although Google trims the limit to 65 characters for a regular appearance in the SERPs. The search link ought to include the key phrase of the web page and should be enticing for readers to click.
The description is composed of a copy from the Meta-Description tag and the content of the web page. If the user's 'search phrase' matches with the text in the description, the snippet may be text only.
Do you ever spend hours optimizing a blog article or page only to never see it rank on Google? This may be due to higher levels of competition for that particular "key phrase". 
Therefore, performing an analysis on your competition appearing in the SERPs is a must. Top 10 ranking websites can be chosen for the study to get a practical sense of the time of what it would take to achieve this desired spot.
Factors to take into account:
Total number of backlinks: How many unique backlinks do your competitors have?
Maturity of Domain Name: How long has the domain been active online?
Type of Websites: Be realistic here, if Wikipedia is ranking #1 you should aim for #2.  Review current rankings and compare their domain authority to yours
It is essential to investigate "How" and "Which" search results show in the SERPs. This presents a reasonable idea of how to perform the methods and how long it would take to obtain a top position in the search engine results page.
Understanding Google Ranking Factors
At times, it can seem like Google's ranking factors are never in your favor. What are the key metrics exactly and why is it a closely guarded secret of Google.
It is due to the fact that these determinants are kept a mystery. No one is able to misuse them in sequence to shift the search results in their favor.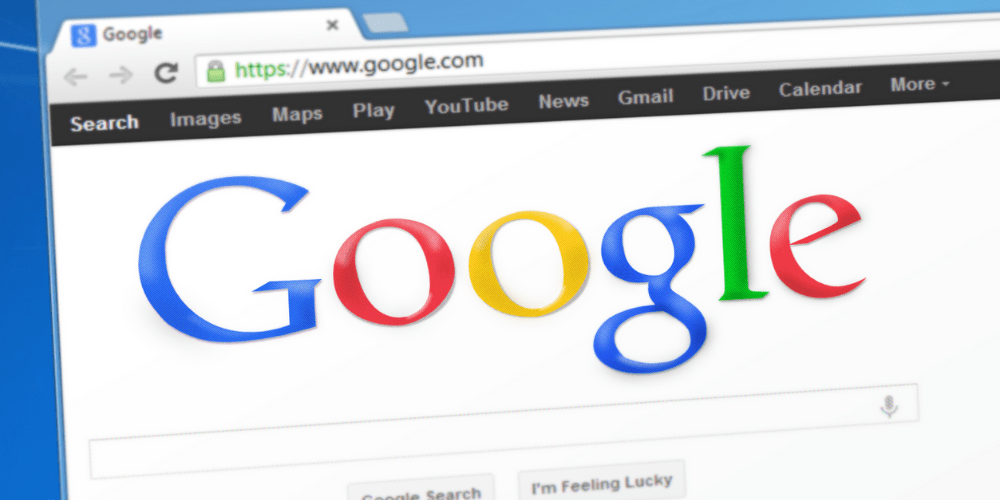 Here are the various Google ranking factors to keep in mind.
This is the most important one and this is a general picture of your website. It takes into account other determinants to provide your website with an overall score or "authority".
Every webpage you want to rank on SERPs will be influenced by its host domain.
The more power that your website has, the more likely it is that each page on your site will rank. The only powerful addition here is internal linking, learning how to best optimize the user's experience can make all the difference.
How much information you have on your site is a different factor. Content websites always outweigh and outlast small websites to are published every now and then. So when in doubt, add more content to your website.
External Link Anchor Text
Search engines employ external anchor text (words other websites use to refer users to your site) as a representation of how other people see your page.
External link anchor text also informs the reader about what they are being referred to before they click.
Normally these are known as hyperlink text.
Strength of External Links
The authority and popularity of other websites that link back to you has a large impact on the health and score of those links.
A PR-6 site backlinking to your website will be a significant lift. Not only, for just the page that is being linked to on your site but for your entire site as a whole as this adds to its overall authority.
If you have a high number of toxic backlinks leading to your website, this can have an adverse effect on your site's ability to rank.
On-Page SEO/Keyword Usage
It's important to refresh yourself with the most updated SEO tips most of the time the adjustments are simple and done in seconds. On-page ranking factors have an ample role when it comes to your understanding of how to rank for a keyword.
For this reason, we recommend you do some light reading on sites such as Moz once every month.
Just as important is to include LSI keywords or modifications/synonyms of your keywords on your webpage. When done so correctly, your links will appear more natural and organic on Google's SERP.
Social search, as well as social proof, are 2 important factors that NetReputation has truly been prophesying will play an ever-widening function in SEO.
This is such an influential Google ranking factor because social proof is actually people testifying on your behalf for the efficacy and worth of your content (goods or services).
The best way to increase your social efforts is by having someone practice Web 2.0 in relation to all your media. This essentially means you will work to share your content across as many platforms as possible in hopes of expanding/increasing your audience.
Social sites such as Facebook, Pinterest, Tumblr make excellent tools.
Publish highly engaging content consistently and watch what happens.
Stick with it.
The volume of traffic that you generate towards your website one of the most underrated metrics of its quality. This analysis and list of insights show you what referral sources are working and which ones need more help.
Traffic insights can show you a detailed overview of where people come from, what they viewed, how long they spent on your website, and where they left. This can be especially important if you are having problems obtaining new leads.
Bounce rate is another factor because if everyone who visits your website bounces exits fast, you're probably not optimizing your webpages correctly. This could also mean that your site is viewed as low quality in the eyes of Google.
Marketers have turned more of a focus towards their bounce rates in recent years. These insights show you what you should fix and what page you should fix it specifically on.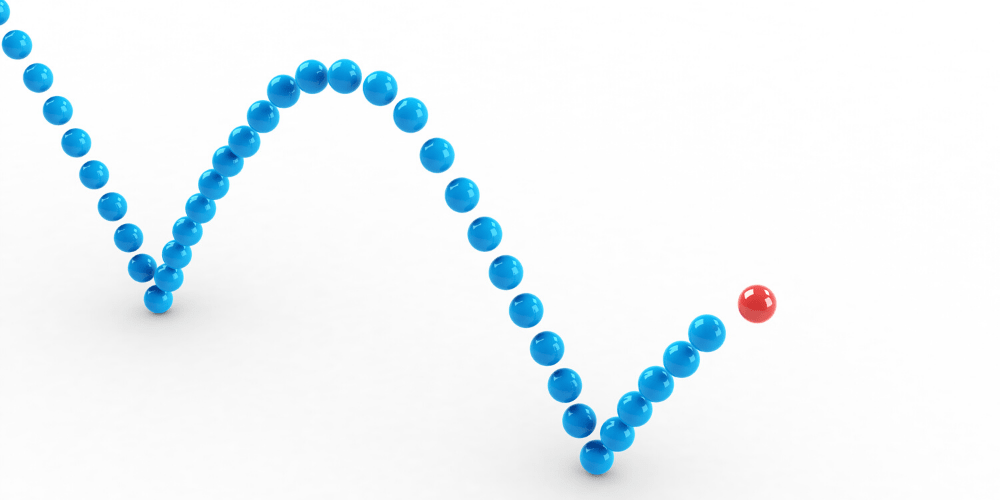 Does poor hosting affect your ability to rank better on Google? Yes, it absolutely does.
For instance, let's say you have a budget hosting provider that undergoes a lot of frequent blackouts. Google is not fond of websites that have trouble staying online as this creates problems for Google's users. Google is not going to risk sending a user to a dead page.
If this occurs repeatedly you can begin to see a drop in your overall website's rankings.
If your website is inoperative often, websites that backlink to your site may finally remove those links. You turn into an "untrustworthy source" as other sites don't would their reputation tarnished by sending people to outdated content or ERROR 404 pages.
Furthermore, if you're on a shared hosting plan with an email happy webmaster who is constantly spamming people you may get penalized by Google. It can take years to recover from such a blow, often referred to as "shadow-banned".
Utilizing Web Crawlers to Improve SERP Position
Web crawlers are nothing more than a culmination of programs that better collect pertinent data from search engines by "crawling" the entire web. The term "crawler" refers to them crawling from one link to another across websites and manages to retrieve/fetch information in the blink of an eye.
These crawlers classify themselves to a web server by doing the HTTPS request's user-agent range. This process can recognize which crawler toured our website by monitoring the web server's log (Typically found on hosting server).
There are many different types of crawlers on the world wide web now that continuously crawl the internet and guides data about various websites to better help respective search engines update their database.
Google crawler is based on C++ as well as Python. It is generally known as the "Google Bot".
The Yahoo crawler is recognized as the 'Slurp' as it supports Yahoo to sustain its complex search database.
The MSN/Bing crawler identifies as "MSN bot". Bing leads to get data on the web with the guidance of its proprietary software.
The original crawler for the worldwide web.
This is a JAVA-created web crawler. An important feature of WebRACE is that it continuously receives new starting URLs to crawl from.
It is a completely free open-source crawler in regards to all things Wikipedia.
It is a different web crawler composed in Java and published under the Apache license.
Request a Free Consultation
Paid Vs. Organic Results Online
In order for your website to grow into an industry leader, you need visitors, you need traffic. Your few friends and relatives that click-through will not suffice. Next on your agenda should be to strategize an online advertising plan.
You can find consultants on sites such as Fiverr and Upwork to ease you into the process.
If you had to choose based on what you prefer, would you rather have more organic leads or paid leads?
Most business owners base their decision upon the needs of their company and their resources (i.e their budget).
There is no one size fits all solution here, you must decide what will be best for your new website. By viewing your analytics, ROI, and conversion rates you can better optimize your efforts. Everything works as a complement to one another.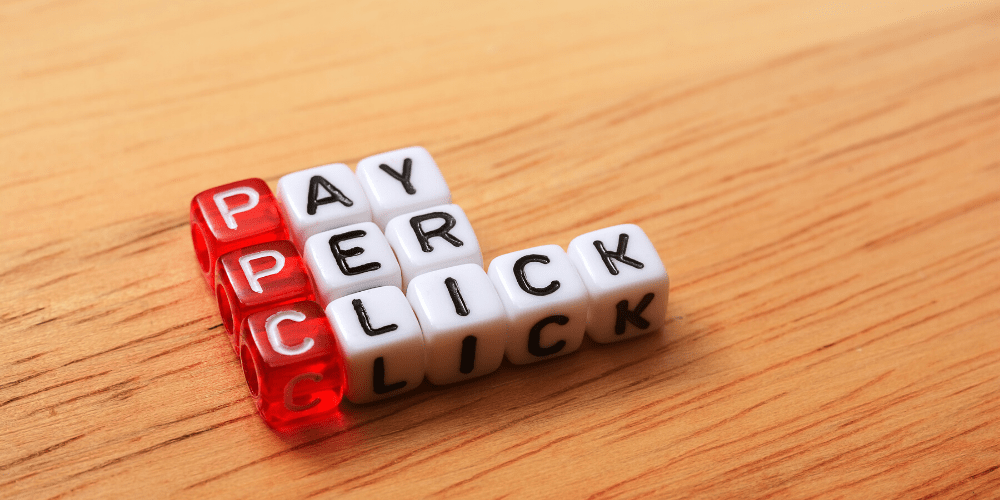 Organic results are those that show up naturally in SERPs. This means there is no blue icon that says AD, organic results typically start as the overall 3-4 positions of the SERP.
Basically, if a user searches "patio furniture", specific sites rank according to their domain authority and overall Google score.
Again, these URLs rank in order of significance. Most often, organic listings are on the left side of most Google SERPs.
There are numerous advantages to ranking highly in organic results:
100% Free. There is no expense on your end for this type of pro-bono advertising.
People click on organic listings more frequently than paid results.
Obtain a longer-lasting rank and business from these SERP positions.
Organic listings allow you to write a longer description to showcase your work before the user clicks.
For these search results, you must pay to play in order to have Google list for particular keywords.  Nearly all paid listings are performed as Pay Per Click (PPC). The precise price for each click depends on the competition levels of that keyword.
There are a plethora of advantages when using paid advertising online:
You can obtain nearly instantaneous results, perhaps getting into the top of the search engines within days.
You control the phrasing of your title and description in your ad.
Better control your search engine ranking, at a cost.
As with organic results, there are negative characteristics with paid listings:
Click amounts tend to be lower than organic as users are becoming smarter.
If you are new or in a competitive industry your ad expenses could be detrimental to your bottom line.
The impact of your online advertising will depend completely on your budget. Bigger pockets mean more leads that create more sales.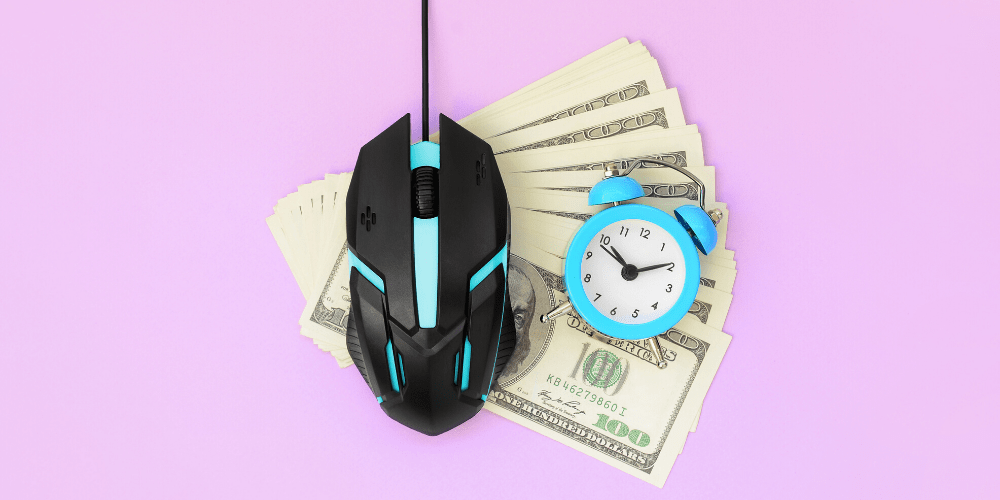 Staying Ahead of Search Engine Algorithms
Unbeknownst to most, there are really techniques that you can use to stay ahead of the curve when it comes to algorithms. Learn how to better position your website for even greater results over time. 
There is just one method that you are going to need to master to stay ahead of websites such as Google, Bing, and Yahoo. You are going to have to deliver outstanding quality content in a way that your users find engaging.
This may sound like common knowledge but unfortunately, it is not.
Google, in particular, is trying to adjust its algorithms so that the absolutely legitimate and highest-quality content shows the highest.
Search engines rely on data collected from public opinion. At the end of the day, the content of your website determines how authoritative and relevant your page is. 
The only way you are going to receive large quantities of inbound links is by creating preferred user content. You will also need to do a little bit of advertising and promotion so people start noticing your superior content.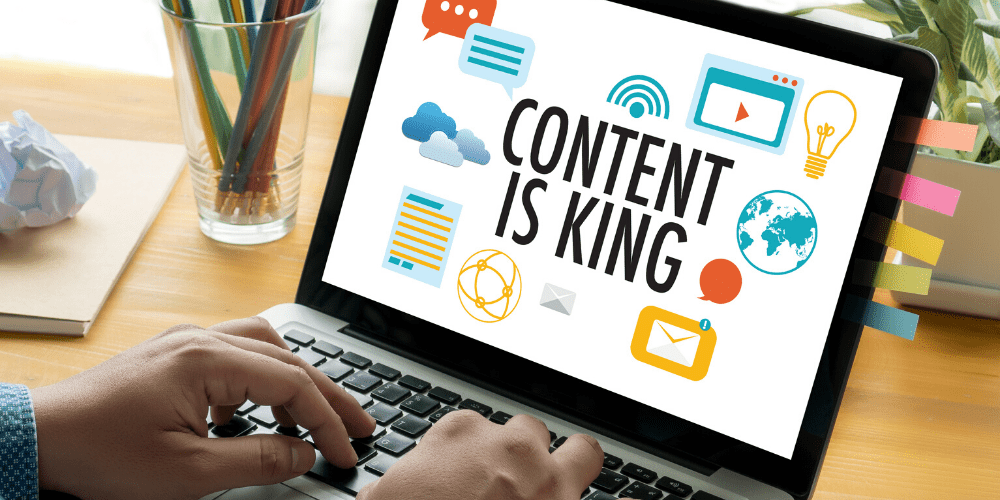 Nevertheless, you should not need to produce hundreds of backlinks to accomplish this. If you do… then you simply are not publishing as great of content as you may have thought. 
Sorry, but that is the truth. You need to be realistic with yourself, market to your buyers. Be smart. Just because you love it doesn't mean others will.
It is nearly impracticable for you to keep high-quality content a mystery. Nothing goes more "viral" though informative information, actual information…
If you strive to persuade or trick the search engines by using black hat SEO techniques, sooner or later your system will fail you.
If you are making the best content you possibly can and you are doing it consistently, it will just take time before people take notice.
Nowadays trends spread faster than wildfire of social sites such as Facebook or YouTube. Then the public and the search engines will compensate you with "link juice" which further improves your on-page SEO. By implementing more of this strategy you have no doubt in our mind you have ranked on Google.
It is important to be consistent, knowledgable, and tech-savvy to operate your website efficiently.
Want to Improve Your Search Presence?
Our Search Engine Repair Specialists can help! Contact us today or get your free Google consultation today to learn more.
Request a Free Consultation