Request a Free Consultation
Responding to Feedback Poorly
Request a Free Consultation
Not Present for Community Functions
Quick resolutions for online reputation mistakes:
Remaining Proactive Through Online Reputation Mistakes
Over Promising and Under Delivering
Can You Accomplish This Yourself
Request a Free Consultation
Online reputation mistakes occur to all businesses, but do you know how to fight this negativity? In this day and age, technology makes the world goes round. Online reputation management (ORM) is crucial for any company.
Online reputation mistakes occur every day but let's master how to handle them. The topmost buying habits that influence consumers today are testimonials and customer reviews. If you or your business has a negative online reputation you may be in trouble.
The internet is a double-edged sword, make sure you understand your opportunities. Having a positive reputation score online is like having a "trump card", you can relate more because people believe you and know you can accomplish what they are looking for.
More importantly, it is imperative that you remain in control of how your business is viewed online. Whether individuals are on Google searching or on the Better Business Bureau. Nearly everyone relies on reviews for businesses they have never worked with or bought from previously.
Request a Free Consultation
Here are the top 8 online reputation mistakes in our mind based on 10+ years of expert knowledge.
Ensure that you are active and engaged when producing innovative content for your potential customers to see. Build a program and follow it rigorously. One fundamental error most companies make is that they attempt and do everything at once.
Discover what works for you and double down. By designing your own brand perception or "brand voice" people can read an article or see a post as they will subconsciously assume "Oh, this must be NetReputation".
One easy tip to improve your consistency efforts would be within social media platforms (Facebook, Instagram, Twitter, Pinterest, many more.), upload original content daily.
Take note of how we said original, this is essential. Consumers are bored with scrolling onto reposted content over and over. They are less likely to click on your content or website because of that. Take the time (5-10 minutes) and formulate something unique that only you have or are able to produce!
In addition, it is important that you post at high-traffic hours. Meaning when users are online the most to fully optimize your newly published content. This confers to the clients that you are interested in more than simply just selling and you care about more than sales.
Consumers want to feel cared for and by ensuring a pleasant user experience you will achieve more in the long-run.
When writing blogs and press releases remain in a relatively comparable mindset and organize a "voice" for your business. A brand voice is a way you represent yourself in a way that makes you positively stand out from your industry competitors.
Goals or aspirations can provide you a sense of orientation or direction. In other words, it is a map for where you are currently and where you strive to be in the upcoming months or years.
Creating a 30-60-90 day plan for your marketing efforts is always a great start. Multitasking is an outstanding feature to possess, but if executed inadequately you may be more unproductive than you might think.
Stephen Covey, the author of "7 Habits of Highly Effective People" touched on this in the first habit, "inside-out". The most excellent illustration of this would be driving through a big city like Chicago. and attempting to get to your destination without a map.
Now presume if you are provided with a map of New York City while you are in Chicago. You can move as fast as possible, only the arrive at the incorrect spot faster.
Make certain all the instruments you use are to your advantage. NetReputation will equip you with all the resources you need to achieve your desired progress.

Responding to Feedback Poorly
What forms the division separating personal and professional?
Considering the internet houses millions of websites that are readily available for any and all users, it is vital to recognize that not everybody is going to prefer your product/service. How you respond makes all the difference between a conversion and them bouncing off your website.
The most useful passageway is to never get personal. Make sure you point out the realities and acknowledge fault where need be.
The motto "the customer is always right" is never a bad saying. A bad phone call may end in a negative review that you are grounded to forever!
Reply to the mere "thank you" comments to show your gratification and kindness. This will play a part in the future when your inherent clients are looking you up. Business owners should accept the fact that everybody is not going to love their service. There is no reason to fret, there are plenty of fish in the sea.
Request a Free Consultation
Not Present for Community Functions
Networking and client connections are a tremendous part of every business nowadays. It is particularly advantageous when it comes to controlling your online reputation.
Remaining engaged in the community not only shows the citizens that you care, but it also shows your workers you are here to provide an honest and reputed solution that you truly care about for those in need.
Quick resolutions for online reputation mistakes:
Philanthropic Donations
Volunteering
Employing local university students as interns
Social Media
Remaining Proactive Through Online Reputation Mistakes
Thinking online reputation management is not necessary is a disturbing theory most business proprietors make. They believe everything will just "fall into place" when the truth is that it won't.
In fact, neglecting the problem could make matters worse.
Your business may have wonderful reviews now but one unenthusiastic review could turn that around in a heartbeat. So make sure you are routinely asking your users and customers to provide feedback. Incentives work, offer a complimentary gift or a price reduction if a review is posted online.
This gives your customers a sense of belonging.
The more energy your customers see you are putting in, the more probable they are to buy your product/service. Having a personable connection with a company is another substantial influence during the buying process. It is all about ensuring that they understand it is money well spent.
According to several studies about 50% of users online will take the time to examine online reviews and publications referencing your company prior to them purchasing anything.
Never become too comfortable, the effects of negative information online is detrimental to your success rate.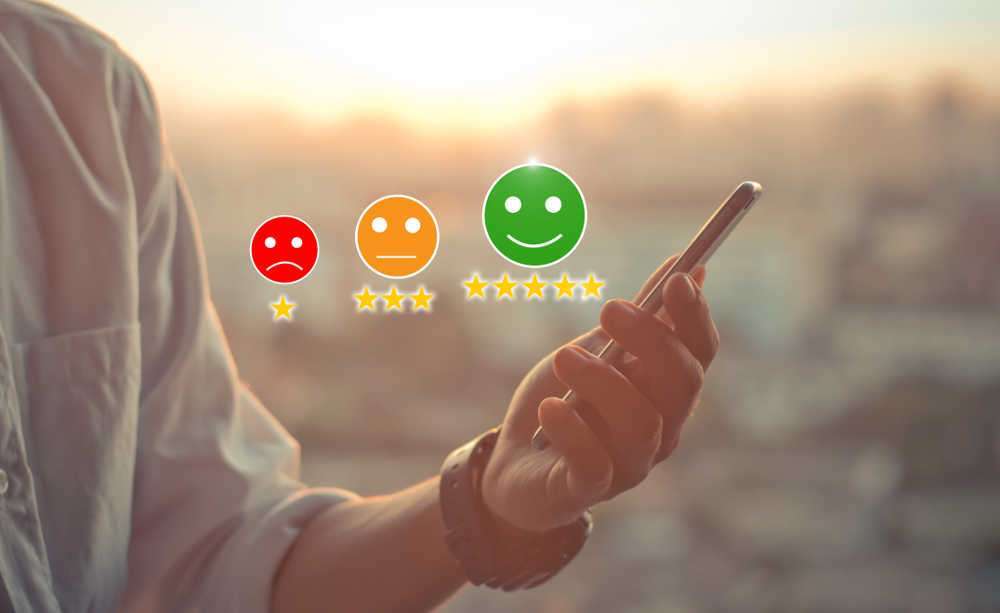 This is a standard misconception most make without even understanding it. Blackhat SEO relates to the implementation of intrusive search engine optimization tactics that drive search engines into believing one thing when your website reveals something entirely separate.
A frequent phenomenon would be placing keywords at the end of your sentences and applying white text instead of black. This is a huge red flag. The users will not see the text but Google will notice it from the HTML code and rank your site more favorably.
Search engines such as Google, Bing, and Yahoo have improved their preventive actions to ensure these tactics of foul play stop.
Your search visibility will be dramatically weaker and in some cases, Google will noindex your whole website!
There are many practical ways to promote your company, SEO takes time and unfortunately, there are no quick-fixes when operating on the internet.
Over Promising and Under Delivering
Operating as a startup or in sales, many representatives say or do things that they may not be able to achieve in order to close the sale. Having the mind of securing the sale over results is the worst choice you can perform.
It is better to give a comprehensive summary with a larger time frame and finish early than to ever miss the deadline. This is how adversarial articles and reviews begin to surface online.
A company's success is rooted in their morals and beliefs.
Make your word your bond with your consumers so they can rely on you to get the job fulfilled.
Can You Accomplish This Yourself
Don't. It is smart to have an organization of specialists to evaluate your idea, concept, and website.
From there NetReputation can execute numerous campaigns in order to repair and rebuild your reputation online.
In many cases there are trivial adjusts you can do to prevent your online reputation from decaying.
If you are interested in learning more about how NetReputation can help you please fill out the form below. One of our knowledgable specialists will reach out to you as soon as possible with a detailed reputation plan just for you.
Request a Free Consultation