Request a Free Consultation
How Long Does Reputation Management Take?
Past Reputation Management Efforts
Factoring in Industry Competition
Backlinks Create Higher Competitive & Greater Authority
Brand Story Telling with Content Marketing
Controlled Digital Assets & Social Profiles
Request a Free Consultation
Influencer Marketing & Search Engine Optimization Outreach
Waiting to See Reputation Management Results
Does the Same Timeframe Apply for Online Review Management?
How long will it take to improve your reputation?
Request a Free Consultation
How long will your reputation management strategy take? Contact us to get your Free Reputation Analysis today!
One question that we get all the time is, "how long does reputation management take?" Even more popular is, "just how much do online reputation management solutions cost?"
The stress business owners go through about online reputation is understandable. After all, 80% of customers now search businesses on Google before making a purchase. And what Google results say about your company ultimately determines what customers think about your brand.
That's why knowing how much time it takes to overcome a poor reputation and secure your brand online is so important.
But like it or not, the answer isn't always so cut and dry.
Request a Free Consultation
How Long Does Reputation Management Take?
Content Removal ► 5- 7 business days
Content Suppression ► 1 – 9 months or longer
Online Customer Review Management ► 1-6 months or longer
At Netreputation, the average online reputation management solution can take anywhere from a month to a year or more. What ORM takes depends mainly on the amount of "clean up" or crisis mitigation you need. After all, you must fix your reputation before you can make a serious effort to build it.
For certain industries, online crisis control may never have a set "timeframe." Instead, some require an ongoing reputational plan to protect against threats and ensure a positive online image.
There are several factors that determine the length of your online reputation management (ORM) campaign. Until you know them, it may be hard to understand the work that goes into repairing your online image.
Some of those factors include:
Past Reputation Management Efforts
How your brand currently stands has a big influence on your future ORM strategy.
For instance, if you already have a positive reputation on the first page of Google, removing or suppressing a negative link may be a little less challenging. This means less work will go into generating positive results.
But if keyword searches show negative posts near or at the top, things will likely require a little more effort. And if you're business has never put a dime into growing your online reputation, your strategy will likely be built from scratch.
COMMON MISCONCEPTIONS ABOUT ORM
Here's a timeline demonstrating how long an ORM campaign can take based on the work needed: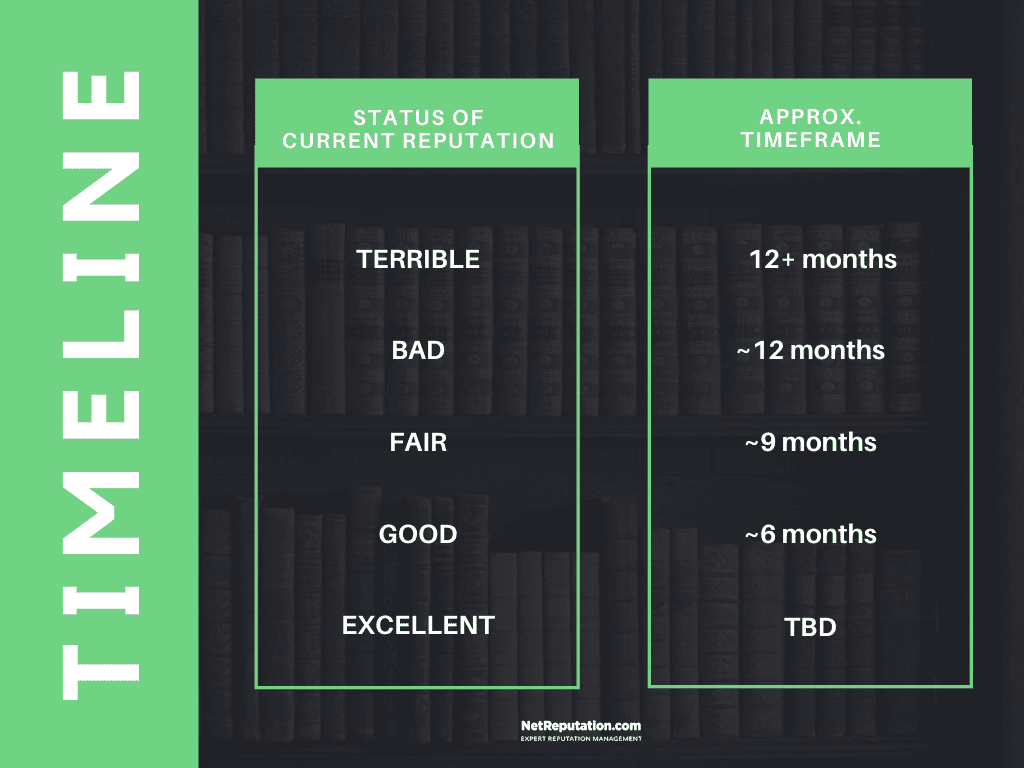 Developing a positive reputation from nothing takes patience, and a lot of time. Yet, it's still easier than countering negative content that's ranking high in search.
Factoring in Industry Competition
Online competition is perhaps the biggest factor affecting your ORM strategy. When there's a lot of competition for your target keywords, and other businesses, are already on the ball, things become much more challenging.
Google's focus is to provide searchers high-quality search results that directly address their query. It utilizes over 200 variables to determine the quality and relativity of each link showing up in search.
So, if the competition for a specific keyword is tough enough, you may have to reevaluate what you're doing.
Here's a look at the direct relationship between keyword competition and the resources needed to dominate search results:
Request a Free Consultation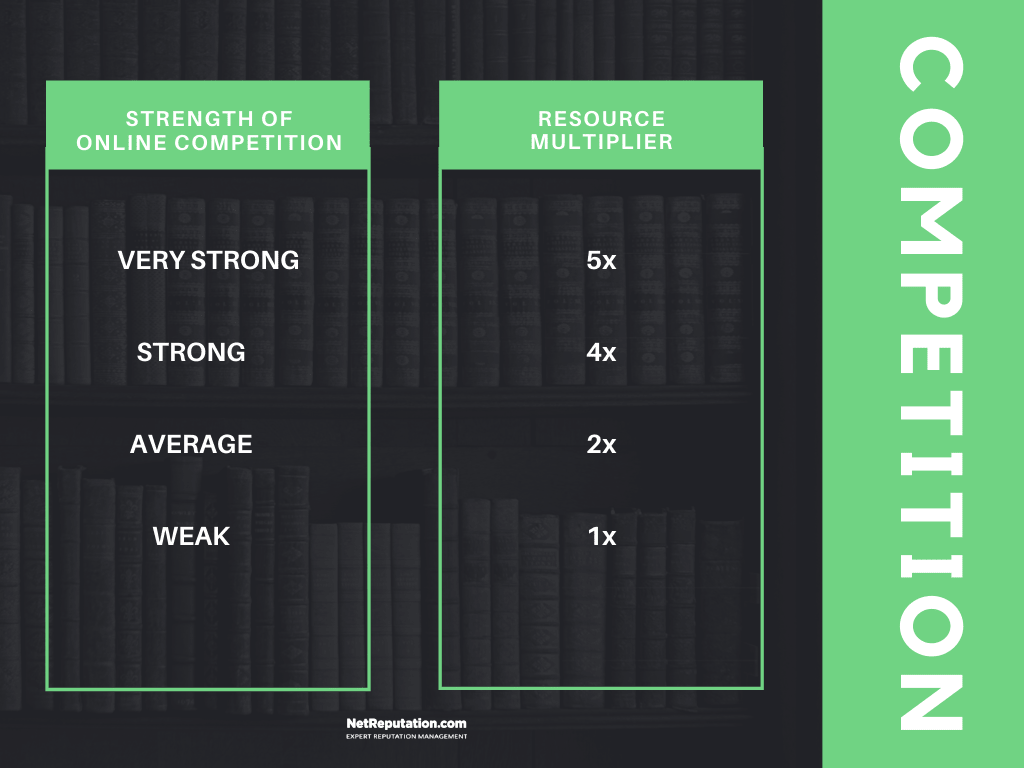 Backlinks Create Higher Competitive & Greater Authority
A website's linking profile is just one factor Google uses to determine a page's rank.
When other trusted sites and pages link to your content, Google treats it as vote of confidence. The more links you get, the higher your "trust flow" is in the eyes of Google. That is why having a variety of high-quality backlinks pointing to your website is essential.
Unfortunately, obtaining these links isn't as simple as it was in years past.
A while back, you could simply buy links in bulk and rise to the top of Google quickly. But now, getting traffic from high-authority websites requires a solid plan.
The process of getting high-quality backlinks can take time. Usually, this is because you must manually contact each website and understand your options for how to win them.
And once you connect with a top authority site, there is no guarantee Google will index it. This is especially true if go after a competitive keyword: the harder the keyword difficulty, the more time it takes before Google updates the search results.
Brand Story Telling with Content Marketing
An effective content advertising approach usually tells a compelling narrative. The dilemma is this: brands participating in reputation management generally have an issue creating that story.
A well-designed and persuasive content marketing approach can make a real difference. This is particularly true regarding costs involved with PPC efforts as a whole.
Look at it this way: when the narrative is positive and compelling, it can go viral fast. This is exactly what you want! Online sharing is the best form of free marketing. By going viral, you not only open your brand up to the masses, but you are doing so FOR FREE!
Check out the graph below. It shows how prices skyrocket the weaker your content marketing strategy is. The greater the content campaign (and better your story), the lower the prices for brand recognition management solutions.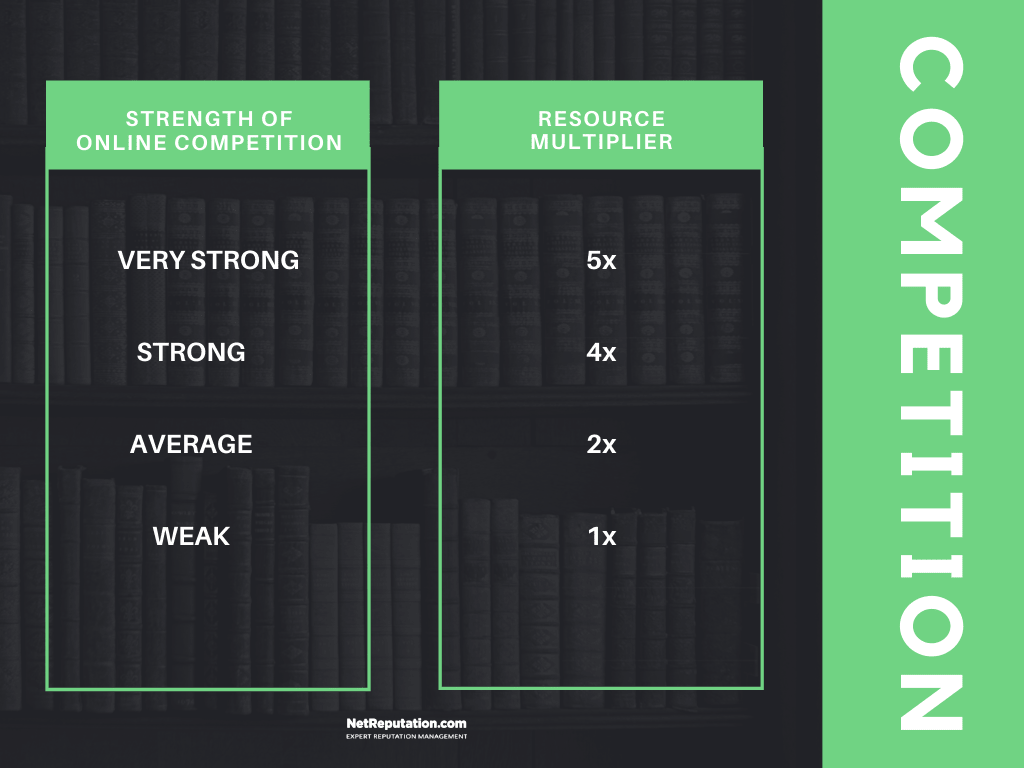 So, if a new brand engaging in online reputation management already has a less than compelling presence, the efforts needed to repair that brand will be much more challenging.
However, when a brand has an engaging story, it is a lot easier to attract new potential customers. And easier generally means fewer resources will be needed, driving costs down in the process.
Remember: the best thing you can do online is to invest in internal marketing and reputation pros who wish to discuss and create content about you regularly.
Another advantage is that websites with superior content may even make it to the top of the search engine with less traffic when compared to their opponents. This is because websites with a stronger linking profile will outrank your website more times than not.
Controlled Digital Assets & Social Profiles
Apart from your own website, there are many important platforms needed to uphold or improve your brand name. If you don't already have well-managed profiles on Facebook, Twitter, Instagram, and LinkedIn, you'll need to reinvest some time into building them.
Request a Free Consultation
Social media plays an enormous factor in business and individual reputation. Your social media says who you are, what you stand for, and what you are interested in.
And in the digital age, that is enough information for others to make a"first impression" without ever meeting you.
This can make finding a job, looking for housing, applying for a loan, or even finding to date much easier in the long run.
Google is a double-edged sword. For this reason, it is critical that you focus on improving your online reputation before it's too late.
Influencer Marketing & Search Engine Optimization Outreach
Another ORM essential is influencers.
This means reaching out to the key influencers and opinion-makers within your market. Collaborate and engage with as many influencers as you can possibly can. Instagram and Youtube may be the two most efficient ways to market your goods/services to the general public.
But maybe you already know your ideal customers and have the perfect list of influencers to assist you.
Over the past few years, influencer advertising has become big business. And due to their impact on customer behavior, organizations are investing thousands of dollars in participating in micro-influencer advertising already popular in tiny sub-niches.
Finding these influencers on board with your ORM plan can speed up your progress and get you better results faster.
Waiting to See Reputation Management Results
There's generally a 10-to-12-week lag period between doing SEO and viewing results. This is just an average, as the time depends on the scope of work yours may differ.
The best reputation management businesses back up their information and capitalize on powerful SEO techniques.
Such service provides use SEO outreach practices to get publishers to include a link within their content. These links are crawled by Google eventually.
However, to observe that the SEO efforts reflected in search results requires a little bit of patience. Changing Google can take anywhere from weeks to 6-12 months.
Does the Same Timeframe Apply for Online Review Management?
When it comes to removing reviews, it all depends on how the review is removed. Google, along with other third-party review platforms (i.e. Yelp), will not remove a review simply because "you don't like it."
Usually, removing a review requires that you discredit the reviewer or prove they violated the site's terms of service.
Be smart when you work to hide and suppress negative reviews. You must be strategic and remember to only post new reviews in a "human-like" manner.
No, we are not saying post fake reviews. Instead, we are saying don't tell all your customers they NEED to leave a review this week. Because if you typically get 1-2 reviews per month and suddenly get a dozen a day, it will look suspicious.
This helps guarantee new reviews don't get flagged. If a lot of reviews appear unexpectedly, this might appear unnatural to review websites like Yelp. The testimonials are likely to be hidden on that profile, despite the fact that they are real.
How long will it take to improve your reputation?
Like it or not, there are too many factors involved to provide the same reputation timeframe for everyone. The best thing, for now, is to inform our clients when they should begin to see results.
The solution depends on a number of items. These include anything from your current reputation and keyword competition to your content approach, quality of your narrative, and search engine optimization variables.
If you would like more details on the reputation management plan or to talk about a possible deadline for the project, contact us today.
Request a Free Consultation