How Reputation Management for Physicians Improves Patient Engagement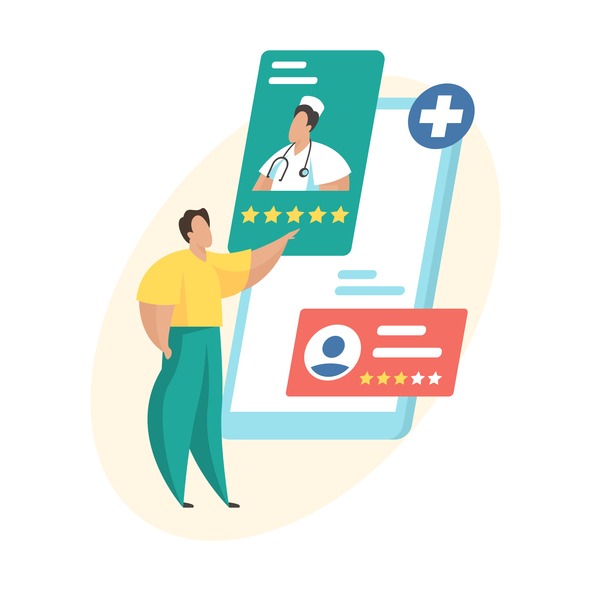 Written by: Brandon P
April 30th, 2021
How does inaccurate info hurt your practice?
Why Does Your Online Reputation Matter?
If You Don't Control the Message, Someone Else Will
So What Does Reputation Management for Physicians Look Like?
Best Strategies for Online Reputation Management for Physicians
Want to Control Your Message and Boost Your Practice Online?
Not convinced that reputation management for physicians is all that important? Let us ask you this. When patients Google your practice or your name, what are the first results that pop up?
Often, after ads, what pops up first on the Google results page are review sites like Yelp, Vitals, Healthgrades, and RateMDs.
And while it's no surprise that patients are searching for doctors online, did you know that 83% of those potential patients are reviewing your online reputation?
It's not a surprising statistic when you consider that people like to know who they'll be seeing in the examination room.
Just like any other business, you're going to lose potential business if you have two stars on Google or all your Healthgrades reviews say you "lack bedside manner."
Unfortunately, many doctors are still of the mindset that they don't need to prioritize their online reputation.
Hey, we understand that you're busy being a doctor. And healing people and saving lives is certainly quantifiably more important than digital marketing.
But when you let your reputation go, it doesn't just sit there. If you don't craft the message, the message will be crafted for you. Often in a much more negative light than if you had been proactive about reputation management.
As a result of this attitude, a shocking 78% of provider listings on the aforementioned review sites are incomplete or inaccurate.
Phone numbers, hours of operation, medical specialties… This is vital information that is helping people decide whether or not to become a new patient!
How does inaccurate info hurt your practice?
When your information is inaccurate and your reviews (negative or positive) go unanswered, it gives people the impression that you're not keeping up.
Or worse… that you don't care at all.
Your digital presence is the new waiting room experience for your patients. It's the first experience they have with your practice.
And since it's their first experience, you want to make sure it's a pleasant one that encourages them to come back again.
Remember, when you invest in specialty reputation management for physicians, you're investing in patient engagement and patient retention.
So with that in mind, let's check out how online reputation management can help you transform and grow your practice!
Why Does Your Online Reputation Matter?
The long and short of it is this: The vast majority of your patients are online. Whether or not you are prepared, that's how more than 90% of patients find you.
And it's also how over 80% of them make a decision about whether or not to make that first appointment.
When your information is incorrect, skewed negatively, or misrepresentative online, it can hurt your practice.
You wouldn't allow your practice name, phone number, or address to appear incorrectly in a brochure or on a billboard. So why would you allow it in a far more visible arena?
Imagine that you need a new landscaper. You Google "landscapers near me." Are you going to choose the 2-star business with four negative reviews and one five-star review with no words?
Or are you going to choose the 4.5-star business with 800 reviews and replies to comments on every single entry?
It's just human nature. First impressions matter. And nowadays, your online reputation is your first introduction to potential patients.
If You Don't Control the Message, Someone Else Will
Even if you don't have a website or actively monitor your online reputation, you're not really "offline." If you have patients, we can guarantee that there is patient-generated content floating around on the internet.
Reviews on Healthgrades or Yelp, comments on your Google My Business page, inaccurate check-ins on Facebook…
You have to take control of your practice's messaging, or the story that's told will be one of incompetence and neglect. And we know you're better than that.
So What Does Reputation Management for Physicians Look Like?
Once you decide to take control of your digital presence, there are several steps you can take to start sending the right message.
First, claim your pages and listings online. Then address any current comments, reviews, or questions from patients online.
Once you have a handle on your listings, reviews, website, and social, it's time to start the proactive work.
Create informational, useful content that your patients want to read. Respond to negative reviews politely and without being defensive. Reach out to happy patients and ask them to review you on other platforms as well.
And while you're at it, ask if they have any referrals for you!
Managing social posts, blog posts, directory listings, website management, SEO, and review responses is a full-time job!
If you're already overwhelmed or you prefer to stick to the medicine side of the practice, consider hiring a company that specializes in reputation management for physicians.
Best Strategies for Online Reputation Management for Physicians
The first page of Google results for your practice is your new business card. So many of these strategies focus on ensuring that the information you present is accurate, positive, and helpful.
1. Don't Try to Delete or Fight Negative Content – Bury It Instead
Have you ever seen a politician or a celebrity deal with negative press? Name one who admitted their mistake and apologized immediately. Now name one who fought the allegations tooth and nail and went down in a blazing flame of non-glory.
Which example was harder to come up with? The first one, right? That's not because it doesn't happen as often. It's harder to remember because apologizing and moving on is not memorable like a defensive, knock-down, drag-out fight is.
This is a very human phenomenon. When we're upset and full of righteous indignation, often what we want is to feel heard and seen.
But when you apologize to a nasty comment politely and humbly, it takes the wind out of their sails. There's nowhere else to go without looking foolish.
Respond to negative comments quickly and offer to take them offline to solve the problem. Often, once the angry patient has been soothed and heard out, they'll take down the negative comment if you ask them to.
But even if you don't, the important thing is that others see how you responded to the situation.
If you're dealing with a lot of negative comments or press surrounding the same central mistake, or you took over the practice and inherited its negative reputation, don't fight and deny. That just brings attention to the situation.
Instead, bury the negative content with positive content.
If the complaints are old respond with "we're under new management now, we hope you'll reconsider us in the future." If you're dealing with bad press, fight it with SEO-rich blogs, press releases, and social blasts.
In other words, drown out the bad with the good that you're doing.
2. Claim Your Directory Listings
Directory sites are everywhere on the internet. In addition to Google My Business, Yelp, Healthgrades, and other well-known sites, there are hundreds of smaller pages that list local business information. Keeping up with the major listings can be done in a few hours a week.
But to reach all those less well-known sites, you'll need software or help from a company that specializes in reputation management for physicians.
Claiming your pages is relatively easy for minor listings, usually you just have to click a button. But on larger sites like Facebook, Google My Business, and Yelp, you'll have to go through an identification process.
After you've claimed or created your main page, merge any duplicates and clean up any attached listings.
Make sure your information is exactly the same on every site. If you use different spelling variations or different phone numbers, Google may flag your listings as inaccurate and lower your rankings.
Here are some of the more popular social media platforms and directories for doctors we didn't mention above:
CareDash
Doximity
Sharecare
WebMd
Vitals
ZocDocs
RateMDs
Doctor.com
Wellness.com
3. Post on Relevant Q&A Sites and Threads
This is often an overlooked strategy because it requires real interaction and time. But it is highly effective at boosting your Google rankings. It could even land you in the coveted "snippet" section of Google results!
Quora, WebMD, and other sites have Q-and-A sections. Create a profile under your name and answer questions on specific topics. Use a catchy username and add a punchy tagline.
List a link back to your website's blog (which you should definitely have) and use relevant links in your answers to drive traffic to the site.
Just be careful that you are following HIPPA regulations and that you do not give direct medical advice to strangers on the internet. The safest bet is to quote medical facts and then direct people to your site to read more in the blog section.
Well-liked and "up-voted" Quora profiles and answers appear very high in Google results. Remember that Google's number one goal is always to deliver accurate answers in as few clicks as possible.
So when a direct answer is liked by enough people, it tends to show up higher in the rankings than blogs and articles.
You should also pay special attention to the Q&A section of your Google My Business page. Here, Google users can ask specific questions or you can list your own questions and answers.
This is one of the few opportunities you have to share meaningful content centered on frequently asked questions–without having to wait for someone to ask!
Fill the section out with FAQs you get in your practice, and we guarantee Google will notice. They like to pretend they don't play favorites… But we know they prioritize their own products.
4. Monitor Your Reputation in Real-Time
This is critical when it comes to Google's relevancy algorithms. The more quickly you respond to comments, reviews, questions, the higher your ranking will be.
Pro Tip:
To get an alert anytime your name or practice is mentioned online, create a Google Alert. You'll get an email notification when something new pops up.
Facebook has its own timer for business pages and will display your average response time to visitors. Missing even one can take your response time from two hours to six days in no time flat. Set up your notifications to ensure you can answer as quickly as possible.
Starting to get overwhelmed? There are many tools and companies that specialize in reputation management for physicians and offer services and software to help you keep up.
Want to Control Your Message and Boost Your Practice Online?
We can help.
Click here to learn more about reputation management for physicians and how it can grow your practice. Or, call us today to schedule your free Reputation Analysis.